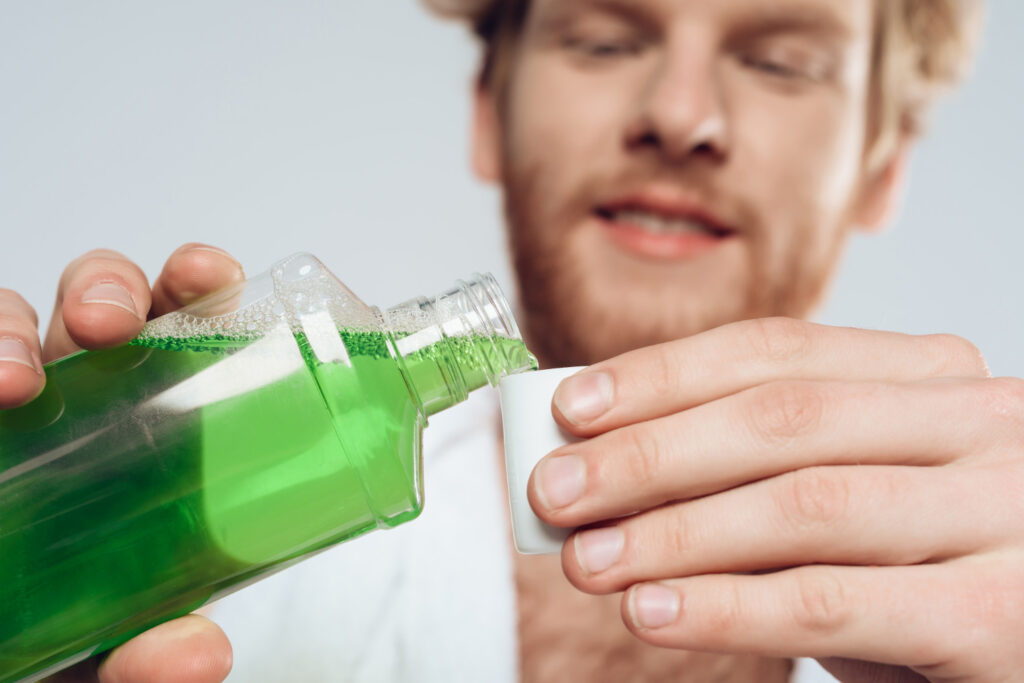 Today, mouthwashes have become a commonly used product for maintaining one's oral hygiene. The benefits of mouthwashes are plenty, including reducing plaque and the risk of gum diseases, preventing cavities, and protecting against bad breath. However, with so many options available in the market, it can be challenging to find the right mouthwash for your needs.
Over the past few years, organic mouthwash have seen a rise in demand as people look to replace their "chemical-laden" mouthwashes with more natural options. These are said to offer a safer alternative to traditional mouthwashes, which are often filled with chemicals that can be harsh on your teeth and gums.
The goal of organic mouthwash is to provide the same benefits as traditional mouthwash, but without the use of potentially harmful chemicals or synthetic ingredients. In the rest of these article, we will attempt to define what an organic mouthwash is and highlight the top organic mouthwash products recommended by dentists worldwide.
What Is an Organic Mouthwash?
Organic mouthwash is a type of mouthwash that is made with natural and organic ingredients. Unlike conventional mouthwashes that often contain synthetic chemicals, organic mouthwashes use plant-based ingredients and essential oils to help freshen breath, reduce bacteria in the mouth, and promote overall oral health. Organic mouthwashes may also be free from artificial colors, flavors, and preservatives.
That said, there is no clear industry standards on what can be defined as an organic mouthwash. As such, the term has been widely abused by mouthwash manufacturers in a bid to sway consumers into purchasing a more natural and 'healthier' mouthwash products.
It is important to carefully read the labels and research the ingredients to determine if the mouthwash product is truly organic. Now you may wonder, what ingredients can be considered as organic and natural?
In general, these natural ingredients are derived from plants, seeds and other natural sources, rather than being chemically synthesized in a factory. Examples include herb extracts such as ginseng or turmeric extract, and essential oils like tea tree oil and spearmint oil.
Ingredients that are not natural are typically synthetic ingredients used to enhance the flavor, extend the shelf-life, or increase the health benefits of a mouthwash. These include artificial flavors, preservatives, coloring, alcohol, sulphates, sweeteners, and any other additives.
What Are the Benefits of Organic Mouthwash?
Organic mouthwashes made from natural ingredients perform equally well than traditional mouthwashes in eliminating bad breath and helping you achieve a healthy, sparking smile. Furthermore, they offer numerous additional benefits that traditional mouthwash do not.
Firstly, the absence of chemical ingredients and alcohol makes organic mouthwash suitable for people with sensitive mouth. Individuals who suffer from dentin hypersensitivity struggle to use big-brand mouthwash due to the presence of alcohol and additives which irritates the gum and causes discomfort. An organic mouthwash made with natural ingredients are gentle to the gum and are less likely to cause irritation compared to artificial ingredients.
You may be interested in: Coconut Oil for Teeth Whitening. Why and How It Works?
Secondly, the natural ingredients found in from organic mouthwashes contains antibacterial, anti-inflammatory, and therapeutic properties that can help to fight infection and prevent gum diseases such as gingivitis.
Lastly, organic mouthwashes do not cause health issues such as dry mouth or sensitivity. Individuals who regularly use mouthwash with alcohol may experience dry mouth and irritation due to a decrease in production of saliva. One must be aware that dry mouth increases the risk of tooth decay, gum diseases, and other oral health problems. This problem is eliminated with the use of organic mouthwashes.
Can I Make My Own Organic Mouthwash?
The answer is YES, you can make your own organic mouthwash. In fact, it is a relatively simple process and can be done with natural ingredients that are commonly found at home. Some of these ingredients include essential oils like peppermint or tea tree oil, apple cider vinegar, baking soda, and salt. You can include herbs like sage or thyme for added antimicrobial properties.
Many prefer to make their own organic, natural mouthwash simply because they want to avoid certain chemicals, additives, or preservatives that may be present in big-brand mouthwashes. Others prefer making a unique mouthwash of their own flavor, or they find it more cost-effective to make their own.
When making your own mouthwash, there are natural ingredients you can use. Here are some examples:
Baking soda: Baking soda has natural whitening and cleansing properties that can help remove stains and bacteria from your mouth. It also helps neutralize odors.
Salt: Salt can help reduce inflammation and soothe sore or irritated gums. It also has antibacterial properties that can help fight bad breath.
Essential oils: Essential oils like peppermint, tea tree, or eucalyptus can give your mouthwash a pleasant flavor while also providing additional benefits like freshening your breath, killing bacteria, or reducing inflammation.
Water: Using distilled or filtered water can help ensure that your mouthwash is free of impurities or contaminants.
To make a simple mouthwash, you can mix one cup of water with one teaspoon of baking soda, one teaspoon of salt, and a few drops of your preferred essential oil. Mix the ingredients thoroughly and use it as a mouthwash after brushing your teeth.
Remember to keep your mouthwash in a air tight bottle to extend its shelf life as homemade mouthwashes do not contain preservatives.
It is important to note that homemade mouthwash may not as effective as big-brand commercial mouthwash in fighting tooth decay and preventing gum diseases. This is because commercial mouthwash products contain chemical ingredients that cannot be easily acquired or manufactured at home. If you are looking to make your own homemade organic mouthwash, always consult your dentist to ensure that it is not only safe for use but also effective.
5 Best Organic Mouthwashes Recommended by Dentists
If you find it too troublesome to produce your own mouthwash, you can always purchase one off the shelves! Here are the top 5 organic mouthwashes recommended by dentists across the world.
1. Dr. Brite Natural Whitening Vitamin C Mouthwash
Dr. Brite Natural Whitening mouthwash is made from all natural ingredients including coconut oil, aloe vera, activated charcoal and vitamin C. The mouthwash is free of artificial flavors, colors, sweeteners, BPA, and phthalates. Furthermore, it is made with 100% edible ingredients, which means it is ok to swallow in the event of an accident.
2. Essential Oxygen Certified BR Organic Brushing Rinse
Essential Oxygen Certified BR Organic Brushing Rinse is certified by USDA Organic, meaning that the mouthwash have 95 percent or more organic content, and have adhered to the strict standards in the manufacturing, processing, and handling of the product. Made with key ingredients such as hydrogen peroxide, aloe vera, and essential oils, the mouthwash helps to freshen one's breath while offering whitening effects. The mouthwash is free of alcohol, sodium lauryl sulfate (find out more about SLS), and other chemicals.
3. Hello Naturally Fresh Antiseptic Alcohol Free Mouthwash
Hello Naturally Fresh Antiseptic Alcohol Free Mouthwash is formulated with farm grown peppermint, xylitol, and tea tree oil. It contains no fluoride, sodium lauryl sulfate, paraben, alcohol, synthetic dyes, and artificial flavoring. What's more, it is Leaping Bunny certified, meaning that no animal testing was conducted in the development of the mouthwash.
4. Auromere Ayurvedic Mouthwash
Auromere Ayurvedic Mouthwash is an all-natural product that contains 23 herbal extracts and 9 essential oils that were deemed by ancient Ayurvedic knowledge to be essential for optimum dental health. Some of the key ingredients include organic neem, peelu, Indian licorice root, and Indian almond. The mouthwash, which is Leaping Bunny certified, is alcohol free, fluoride free, and sulfate free.
5. ORL Natural & Organic Mouthwash
ORL Natural & Organic Mouthwash is made from natural ingredients such as organic xylitol, vitamins, essential minerals, and plant-based essential oils. It is free from glycerin, hydrated silica, fluoride, and over 100 harmful ingredients that are used in many oral care products in the market. ORL mouthwash also prides in being 7.0 pH balanced which helps to restore the pH levels in the mouth and reverse the damage caused by acidic drinks and food.
In conclusion, organic mouthwash is a popular and effective alternative to traditional mouthwash, offering a more natural and gentler approach to oral care. Made from natural ingredients, organic mouthwash is free from harsh chemicals and artificial preservatives, making it a suitable choice for individuals with sensitive gums, allergies, or those who are looking for a more natural oral care solution.
That said, it is important to choose an organic mouthwash that is appropriate for your individual needs and to follow the recommended usage instructions. If you have any concerns about using an organic mouthwash, always best to speak to your dentist who are able to provide advice and recommend you on the right mouthwash to use for your oral care needs.