A beautiful smile can boost your confidence and leave a lasting impression to others. When it comes to keeping your teeth bright, there are numerous teeth whitening numerous procedures and products, and finding the right one can be tricky.
In a world filled with bold claims and dazzling advertisements, skepticism often comes naturally. You may have come across Bleachbright Teeth Whitening kit and wonder how it compares against other products in the market. Is it reliable? Does it really whiten your teeth?
This are answers many of you may have when looking for an at-home teeth whitening solution. In the rest of this article, we will put on our detective hats and take a closer look at what Bleachbright offers, and identify whether it's a worthwhile investment or just another product promising more than it delivers.
Is BleachBright the real deal or just another player in the teeth whitening game? Let's find out together.
What is BleachBright Teeth Whitening?
BleachBright is a brand that offers a range of teeth whitening products services designed to help people achieve a brighter, whiter smile. The products, which are all manufactured in the United States, uses its unique formulation of carbamide peroxide to remove surface stains and discoloration from teeth. An additive unique to BleachBirght is also added to minimize gum irritation and teeth sensitivty.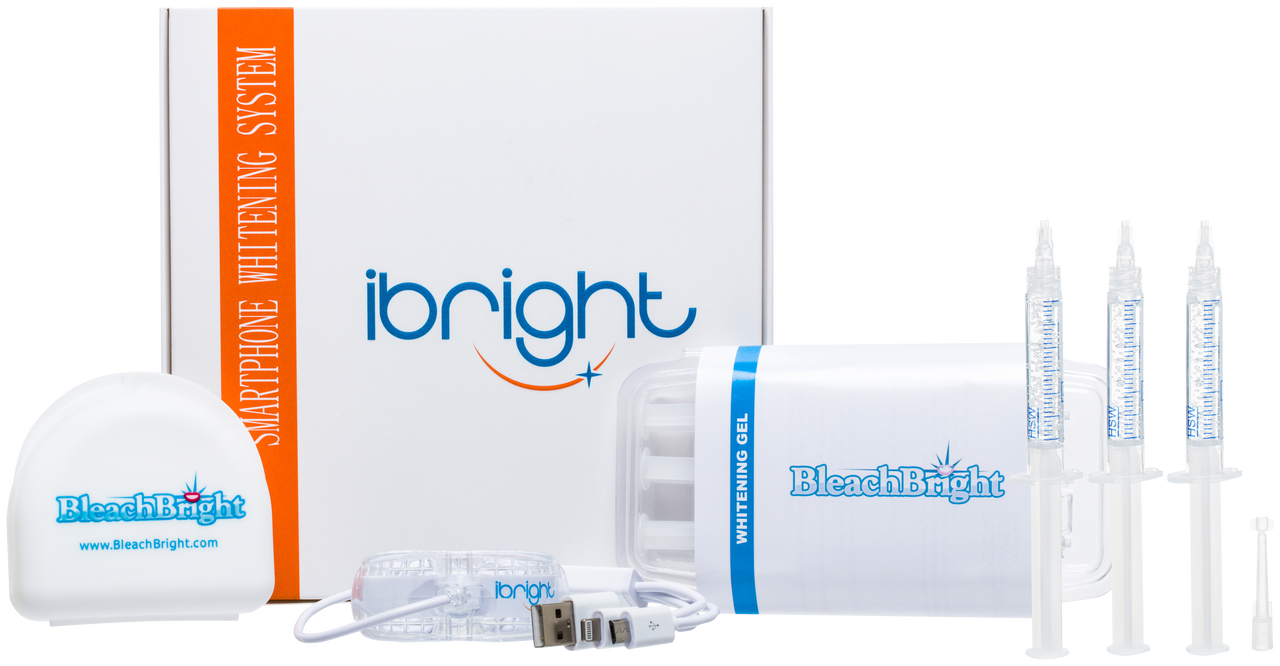 Here are some of the popular BleachBright products that are being used:
iBright Smartphone Whitening Kit: This includes an innovative mouth tray which houses 16 LED lights built in; it is plug straight into a smartphone (iPhone or Android) or USB for power. To use it, simply fill the tray with whitening gel and leave your teeth in for 20 to 30 minutes a day, 3 to 4 days in a row.
NightBright LED Home Whitening Kit: This take-home version features a professional-grade L.E.D. whitening device that uses blue light to whiten your teeth. To use the kit, brush the whitening gel on each tooth and insert the device between the lips and mouth for 20 minutes a day. Repeat this process for approximately a week for the best results.
FoamBright Teeth Whitening Foam Cleanser: This toothpaste was developed to complement BleachBright teeth whitening solutions. It is a foaming cleanser that penetrates between your teeth and under your gum line to whiten your teeth and keep your mouth clean and healthy. Unlike other whitening toothpastes, this has zero abrasive additives. It is also suitable for individuals using orthodontic devices such as retainers and braces. To use it, simply apply one pump of foam onto your toothbrush and brush your teeth as per usual.
3-in-1 Home Whitening System (NightBright, StarBright, & FoamBright): For the ultimate take-home teeth whitening solution, consider this. This system includes the NightBright At-Home L.E.D. light, FoamBright toothpaste and cleanser, and StarBright Dual Action whitening and enamel boosting pen.
KeepBright Whitening Pen: This whitening pen is a short-term, instant teeth whitener that helps you maintain your pearly white smile anywhere, anytime. It is suggested to use the pen after meals to remove any new stains from food and drinks before they settle in and cause discoloration. To use it, apply a layer of gel (containing 12% hydrogren peroxide) on your teeth and give it 30 seconds to dry.
Today, BleachBright supplies teeth whitening products to various industries and shops ranging from dental clinics and day spa to tanning salons and beauty shops. Many combine BleachBright L.E.D. Whitening Kit and BB-Cool Advanced III light system to lighten the color of a teeth by 2 to 8 shades in just one 15-minute session.
How Do BleachBright Products Work?
The teeth whitening products by BleachBright is similar to most products in the market.
BleachBright uses carbamide peroxide gel to whitening the teeth. This is accelerated by its LED blue lights which helps to breakdown the gel into oxygen molecules. These molecules penetrate the enamel and dentin (the layer beneath the enamel), breaking down the chemical compounds that causes staining. This process effectively removes or reduces the appearance of stains, resulting in whiter teeth.
It is important to be aware that the color of teeth can change over time due to various factors, including diet, oral hygiene practices, and natural aging. The initial shade may not be permanent, and maintaining results may require ongoing care and occasional touch-ups.
Is it Safe to Use?
So is BleachBright range of teeth whitening solutions safe to use? The answer is yes, it is safe as long as you adhere to the instructions. Anything you put into your mouth has the potential to damage your teeth if you do not use it properly, and the same is said for BleachBright teeth whitening products.
It is worthy to note that BleachBright manufacture its products in the United States only, and are in full compliance with OSHA, EPA, and FD&C guidelines and regulations. All Material Safety Data Sheets for each product are available for viewing at the official website.
As with all teeth whitening product, results differ from people to people. Before using any BleachBright teeth whitening product, consult with a dentist or dental professional to ensure that teeth whitening is a suitable option for your dental health, and to receive personalized guidance on the most appropriate product or treatment for your needs.
What Are Other Teeth Whitening Products?
Apart from BleachBright, there are several other teeth whitening kits and products out there that can help you achieve a dazzling smile. Here are some common types of teeth whitening products that are favored by many:
Teeth Whitening Toothpastes: Whitening toothpaste contains mild abrasives and sometimes peroxide-based ingredients to remove surface stains. Popular products include Boka (Nano-Hydroxyapatite) Whitening Natural Toothpaste and Colgate Optic White Advanced Teeth Whitening Toothpaste
Teeth Whitening Strips: Whitening strips are thin, flexible plastic strips coated with a peroxide-based gel. These strips are applied directly to the teeth and left in place for a specified period. Products include Crest 3D Whitestrips (Professional Effects), and Zimba Teeth Whitening Strips
At-Home Whitening Kits: Professional teeth whitening treatments can be performed at home with a lower concentration of professional-grade whitening gel. Examples include Opalescence Go (15%) and SmileDirectClub Teeth Whitening Kit with LED Light.
Concluding Thoughts
This article has hopefully shed light on a comprehensive range of products and treatments designed to transform smiles and boost confidence. BleachBright, with its innovative approach to teeth whitening, offers a promising array of options to cater to diverse needs and preferences.
From the convenience of at-home whitening kits to the professional touch of in-office treatments, BleachBright strives to deliver visible results and a brighter, more radiant smile. While it may not be as popular as Opalescence teeth whitening, it has committed to helping individuals achieve their teeth-whitening goals.
Before you embark on your journey to a whiter smile, it's a good idea to talk to a dentist. They can help you choose the best BleachBright product for your unique needs and make sure you use it safely.