Now, the answer to that question is relatively simple. One of the best benefits of being a successful brand is that your products will be stocked and be readily available at some of the world's biggest marketplace.
Consumers based in the United States may purchase at e-commerce sites including Amazon and Wegans. Grants of Australia also works with numerous retailers across the world to distribute Grants of Australia toothpaste. Click here to find a retailer near you. Not only that, international consumers can also head to the official website of Grants of Australia to purchase their products.
Consumers in Australia or New Zealand can purchase from major local retailers including coles, Woolworths and Go Vita.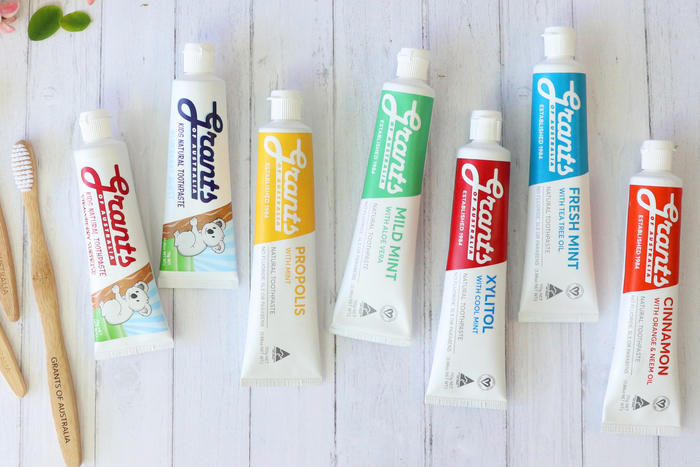 Grants offers a budget-friendly range of healthy toothpastes for everybody's liking. This ranges from the usual flouride toothpaste to flouride-free, kids. whitening, and travel sized toothpastes. The two most popular flavors are Fresh Mint with Tea Tree Oil and Mild Mint with Aloe Vera. For kids, Grants of Australia offers Strawberry Surprise and Blueberry Burst toothpaste, both of which are flouride-free.
It's not just about flavors. Grants of Australia toothpastes are all made in Australia, gluten and GMO free, and are Certified Vegan by the Vegan Awareness Foundation.
If you live in Australia, Grants toothpaste has to be one of your all-time favorite toothpaste brands. It is one of the bestselling natural toothpastes in Australia, and we can't see a reason why it won't be one! So, here is everything that you need to know about the iconic brand.
History of Grants of Australia Toothpaste
The history of the brand dates back to 1984 when Micheal and Michelle Aronson were searching for a toothpaste that didn't consist of parabens, sodium lauryl sulfate (SLS), and fluorides. Michelle was then a school teacher while Micheal was an electrician turned health food shop owner.
The couple was concerned about the chemicals that children (including their daughter Tammy) are ingesting from swallowing the toothpaste incidentally. While there were other natural toothpastes available in the market, the couple was unable to find one that fitted their needs.
When Michael and Michelle couldn't find anything that was natural, healthy and tasted good, they manufactured their own toothpaste in Australia. With that, the couple produced the first toothpaste in Australia that was free of parabens, SLS, and fluorides.
You may wonder why is the company named "Grants of Australia". The story behind the brand is relatively straightforward. Grants was the name of the street in East Malvern that they had lived in when the idea was conceived.
During the initial days of the business, the company struggled to convince the public that Grants toothpaste was a better option. However, in a span of few years, Grants toothpaste when from being stocked only in certain health stores in Melbourne to being available in every major supermarket in Australia. The product can also be found in several countries such as Korea, Malaysia, Singapore, Vietnam, Thailand, United Arab Emirates (UAE), and Poland.
At present, Grants of Australia offers a lineup of oral hygiene products including ten toothpaste flavors, a natural mouthwash, and four different bamboo toothbrushes.
Who Owns Grants of Australia Toothpaste Today?
As mentioned earlier, Grants is a Australian-made and owned toothpaste brand that has been in the oral hygiene industry since the 1980s. Till this day, the company and brand remains owned by the Aronson family.
However, Tammy, daughter of Michael and Michelle, has joined the company as general manager to bring its products to the international markets. The family remains committed to produce affordable and healthy products to the next generation of health-conscious consumers. If you are looking to transition to a natural and vegan-certifed toothpaste, Grants of Australia is the one.