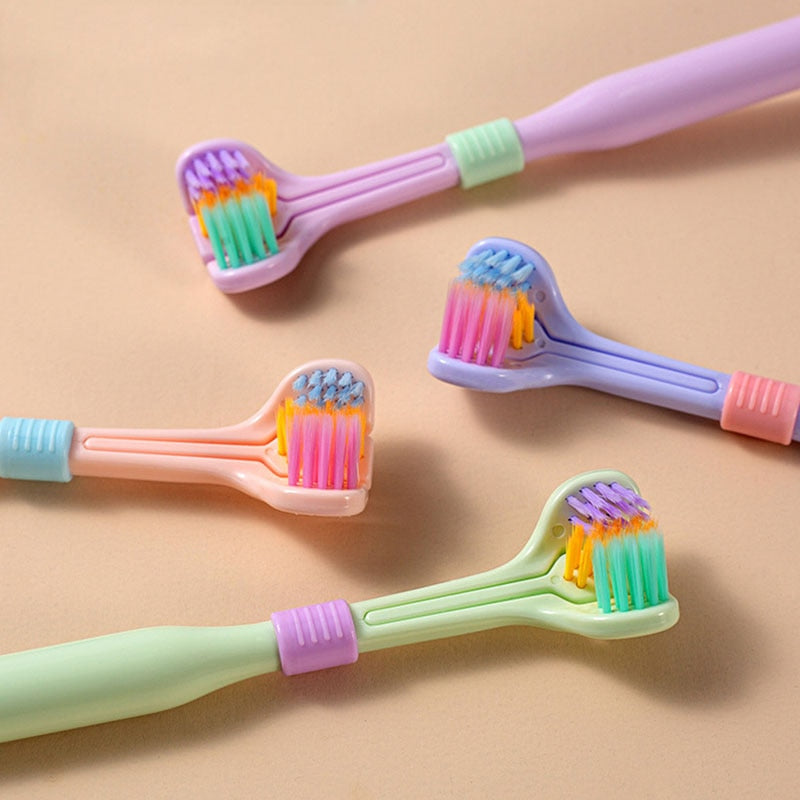 Toothbrushes are an essential tool for oral hygiene, and it is no wonder that toothbrush manufacturers have innovated on the simple-looking tool to cater to people of all needs.
In particular, oral hygiene manufacturers have produced a three-sided toothbrush designed for people with disabilities special needs. While a three sided toothbrush may sound like a strange concept, but it is an incredibly useful tool for effective oral hygiene.
In the rest of these article, we will explore the science behind the odd-looking toothbrush and recommend some of the top purchased three-sided toothbrush.
How Three Sided Toothbrushes Work
While most toothbrush contains a head and the bristle, a three-sided toothbrush contains two head and three bristles. These toothbrushes typically have a triangular shape with bristles on three sides to surround and clean all surfaces of the teeth at one go.
Due to physical, developmental, and behavorial challenge, even the seemingly simple task of using a traditional toothbrush can be a difficult task for people with special needs. For instance, someone with a physical disability may have difficulty holding and maneuvering a traditional toothbrush.
A three-sided toothbrush was thus created to help these individuals simplify the task of cleaning their teeth by allowing them to clean all three sides of the teeth at once. A patent and prototype of the three-sided design was filed in 1992 by Benedent Corporation. In 1993, the toothbrush went into full production.
The uniquely designed toothbrush was well received by parents and and caregivers who struggle to brush the teeth of young children with special needs. By brushing all three sides of the teeth at in one stroke, the the cleaning efficiency have effectively tripled. This meant that the time taken to clean the teeth is now only one-third of ordinary toothbrushes.
Over the years, enhancements were made to improve its usability. For instance, some of these three-sided toothbrush are made with softer bristles to make brushing more comfortable for people with sensory issues. This helps to stimulate and clean the teeth and gums without causing any damage. Other enhancements include the incorporation of a tongue scrapper at the back of the toothbrush head, as well as the design of a flexible neck that bends when excessive pressure is applied.
Indeed, three-sided toothbrush have been proven to be an effective tool in cleaning ones' teeth. In a two-week clinical test conducted by toothbrush manufacturer DenTrust, it was proven that its revolutionary toothbrush was significantly more effective in reducing gingivitis in the areas of the teeth and gums that are hard to reach. A 2021 study on Triple bristles three-sided sonic-powered toothbrush also concluded that the three-sided toothbrush was more effective in reducing plaque than the traditional brushes.
In spite of its effectiveness in cleaning all three sides of the teeth at the same time, proper brushing technique must still be maintained to ensure that all the hard-to-reach areas are still being brushed. It is best that you consult with your dentist as they are able to provide advice on your brushing technique and recommend you oral hygiene practices.
Recommended Three Sided Toothbrushes
Below are some of the three-sided toothbrushes recommended by dentists as well as caregivers of people with special needs.
Forevive 3-sided Autism Toothbrush features three independent brush heads that can move independently to ensure uniform pressure on all surfaces of the teeth. The bristles are made with Dupont bristles that turn soft in warm water, making them suitable for people who are sensitive to brushing. The brush heads are also made with PP and TPE rubber materials, making them soft to the touch and safe for use among children who may have oral dense/oral movement problems.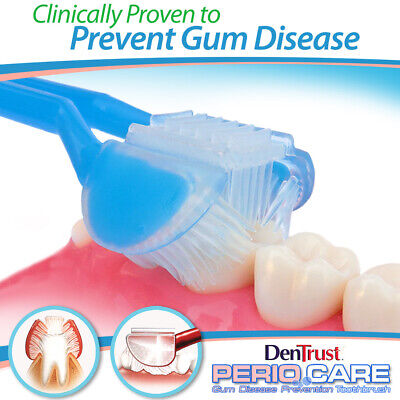 Said to be the original producer of three-sided toothbrush, DenTrust toothbrushes are designed with independent Ultralon bristles that are angled at 45 degrees to ensure that thorough cleaning of the teeth and gums. The bristles are made to be 225 percent softer than most big-brand toothbrushes, allowing the gums to be stimulated without causing irritation. The patented design of expansion pleats and independent support arms are said to provide equal pressure to all teeth, ensuring that the teeth are cleaned equally on all sides.
3. Triple Bristle Original Sonic Toothbrush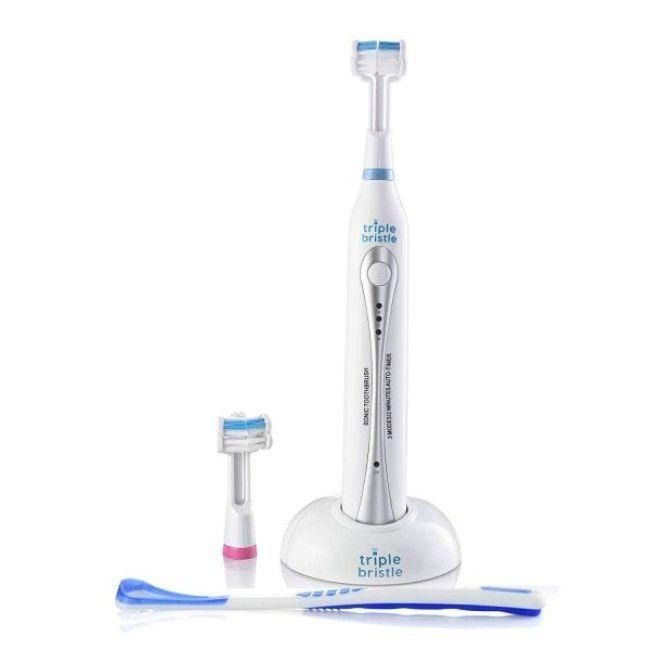 Triple Bristle Original Sonic Toothbrush is the only manufacturer of three-sided electric powered toothbrush in the market. The rechargeable sonic toothbrush is designed to deliver 31,000 sonic stroke vibrations per minutes to the teeth, allowing you to clean your teeth in one-third the time of an ordinary sonic toothbrush. The toothbrush features a three-speed settings and an innovative, soft bristle that turns from blue to white to indicate that the bristles need to be replaced. Triple Bristle sonic toothbrush comes in three versions: Original, Go, and Kids.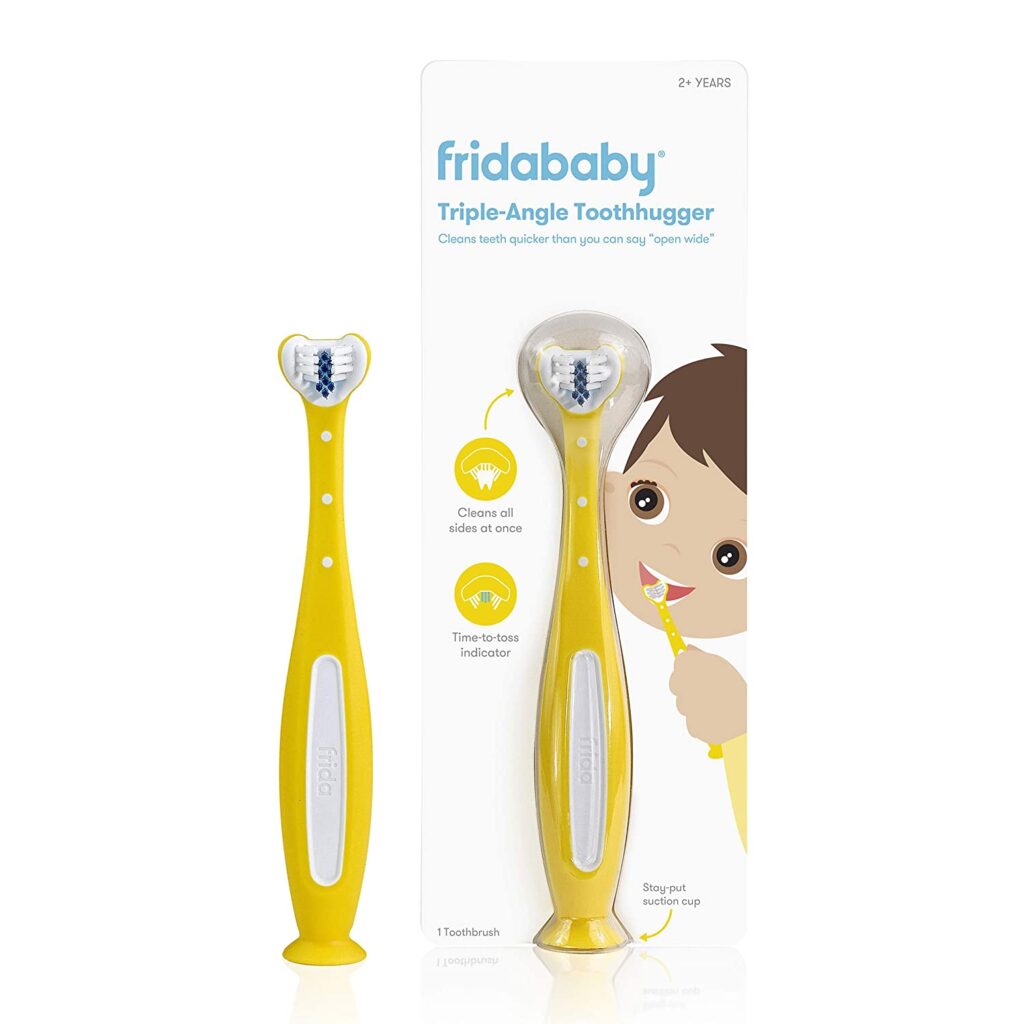 Frida Triple-Angle Training Toothbrush is a kids-sized three-sided toothbrush designed to help toddlers learn how to brush their teeth, with your help! The bristles are made to be super-soft to ensure that it does not damage the growing teeth of your baby toddler. Similarly, the bristles are colored in blue and turns to white when it is time to replace. Last but not least, the toothbrush comes with a suction cup at the base to keep it upright when not in use.
In conclusion, the three sided toothbrush is a great tool for anyone looking to make their brushing experience more efficient and effective. Not only can it save time, but it also helps reach hard-to-reach areas much easier. In particular, the toothbrush have been helpful for people with special needs or disabilities and face unique challenges when it comes to oral hygiene. However, one must always practice proper brushing technique and good oral hygiene habits to ensure a lifetime of healthy smiles!