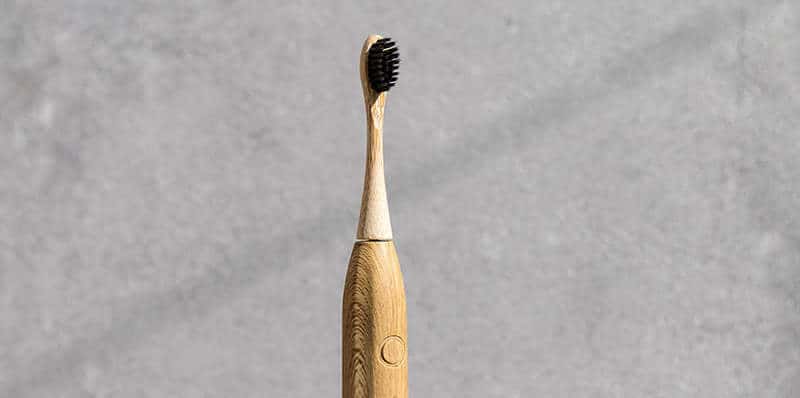 In recent years, there has been a growing awareness about the impact that our everyday choices can have on the environment. From reducing plastic waste to choosing sustainable products, people are looking for ways to make more eco-friendly choices in their daily routine and live a more eco-friendly lifestyle.
One area where this trend has become particularly prevalent is in oral hygiene. In particular, many are looking towards the use of bamboo electric toothbrushes. These innovative toothbrushes combine the natural sustainability of bamboo with the technology of an electric toothbrush to create a product that is not only effective at cleaning teeth, but also eco-friendly.
In the rest of this article, we will take a deep dive into the world of bamboo electric toothbrush and recommend some of the most popular bamboo electric toothbrushes and toothbrush heads in the market. Whether you're a long-time electric toothbrush user or just looking to make a positive impact on the environment, this article is for you. So let's get started!
What Is a Bamboo Electric Toothbrush?
A bamboo electric toothbrush is a type of toothbrush that combines the natural sustainability of bamboo with the technology of an electric toothbrush. Unlike a traditional toothbrush, which typically has a plastic handle and bristles made from synthetic materials, a bamboo electric toothbrush has a handle made from bamboo, a renewable and biodegradable material. The brush head, which is the part that actually cleans your teeth, is usually removable and replaceable, and can be made from nylon bristles that are soft or medium-soft.
The electric part of the toothbrush typically consists of a rechargeable battery that powers the brush head's vibrations or rotations. Many bamboo electric toothbrushes come with a USB cable for charging, making them even more eco-friendly by reducing the need for disposable batteries.
Bamboo electric toothbrush have been seen as a more environmentally friendly option than its traditional plastic counterparts; the latter takes hundreds of years to decompose and contribute to plastic pollution in our oceans and landfills.
Furthermore, bamboo is a fast-growing, renewable resource that is biodegradable and compostable, making it a great choice for individuals who are environmentally conscious. In fact, bamboo is actually the fastest growing plant on earth, growing as much as 2.91 feet a day.
Is a Bamboo Electric Toothbrush Better Than a Plastic Electric Toothbrush?
The answer is no, an electric toothbrush made with bamboo is not more efficient than the traditional, plastic ones. Both types of toothbrushes are equally effective at maintaining your oral hygiene as they utilize the same technology. The main difference between the two lies in their environmental impact.
Bamboo electric toothbrushes are considered more eco-friendly due to their use of sustainable and biodegradable materials, such as bamboo for the handle and toothbrush heads.
You may be interested in: The Ultimate Guide to Buying Wooden Toothbrushes
On the other hand, plastic electric toothbrushes are usually made from non-renewable resources and can contribute to plastic waste, which has negative impacts on the environment. However, some plastic electric toothbrushes may come with additional features, such as different brushing modes or pressure sensors, which may not be available in bamboo electric toothbrushes.
If you prioritize eco-friendliness and sustainability, a bamboo electric toothbrush may be a better option for you. However, if you are more focused on the features and functionality provided by the toothbrush, a plastic electric toothbrush might be more suitable.
Top 5 Bamboo Electric Toothbrushes
Here are five bamboo electric toothbrushes that were well-regarded in 2023 by dentists and environmentalists:
The M.A.K Bamboo Sonic Electric Toothbrush is an eco-friendly and natural alternative for your oral hygiene needs. The toothbrush head is made of bamboo, which is environmentally friendly, and the main body is made of plastic, compatible with most brush heads. The brush offers three frequency conversion modes including cleaning, bleaching, and gum care, making it versatile for various cleaning needs.
The brush head is replaceable and features a variety of bristles to fit the gums and teeth for deep cleaning. It is waterproof and can be used in the shower or bath. The toothbrush is charged via wireless induction and can be used for more than 80 cycles with one charge. It has a standby time of over three weeks and can be easily operated with a single button switch, making it ideal for children.
2. Better & Better Bamboo Sonic Toothbrush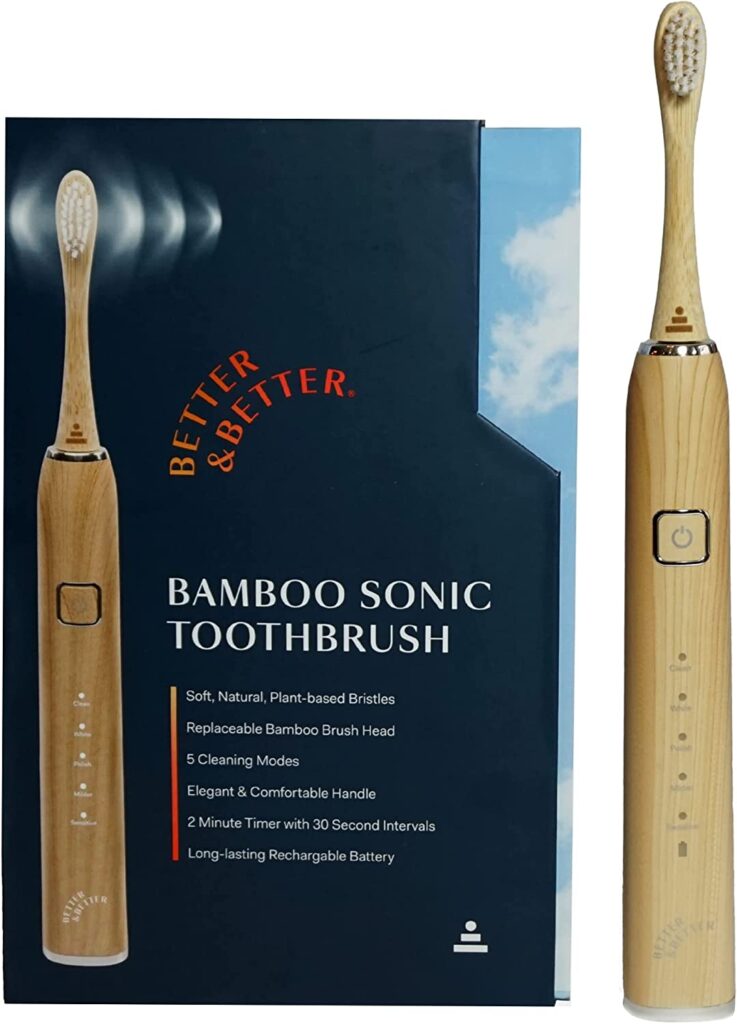 Achieve a cleaner, brighter, and whiter smile with Better & Better's Bamboo Sonic Toothbrush for adults, featuring soft, plant-based bristles made from castor bean oil and producing 38,000 microvibrations per minute for a gentle yet effective clean. This smart and powerful bamboo electric toothbrush offers a 2-minute dentist-recommended timer with 30-second interval pulses, as well as five cleaning modes to cater to various brushing needs.
Safe for use on braces and dental restorations, this cruelty-free toothbrush comes in recyclable packaging and provides an optimal brushing experience with its waterproof design, replaceable bamboo heads, and long-lasting rechargeable battery.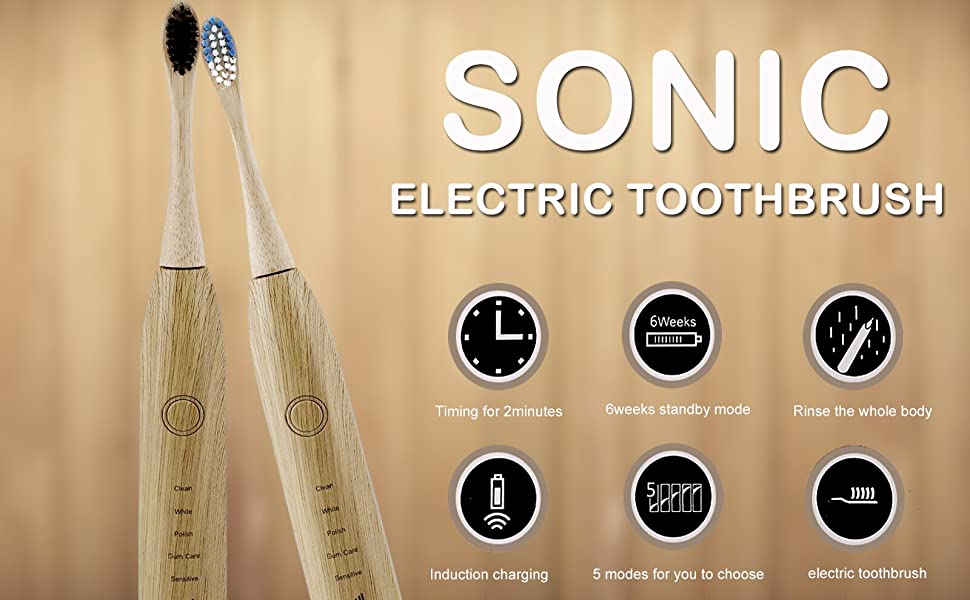 Fayet eco-friendly Bamboo Electric Toothbrush is designed with a 100% bamboo brush head and a waterproof PC body to protect its electric components, making it both biodegradable and environmentally safe. Boasting five versatile modes, this toothbrush caters to various oral needs, including standard whitening for discolored teeth, sensitive cleaning for delicate teeth, and standard cleaning for healthy teeth.
With up to 39,000 strokes per minute, this powerful toothbrush delivers dynamic cleaning comparable to a dentist, effectively removing plaque and revitalizing gums. The package includes a bamboo toothbrush handle, three replacement toothbrush heads, a USB charging cable, a wireless charger, and an instruction manual.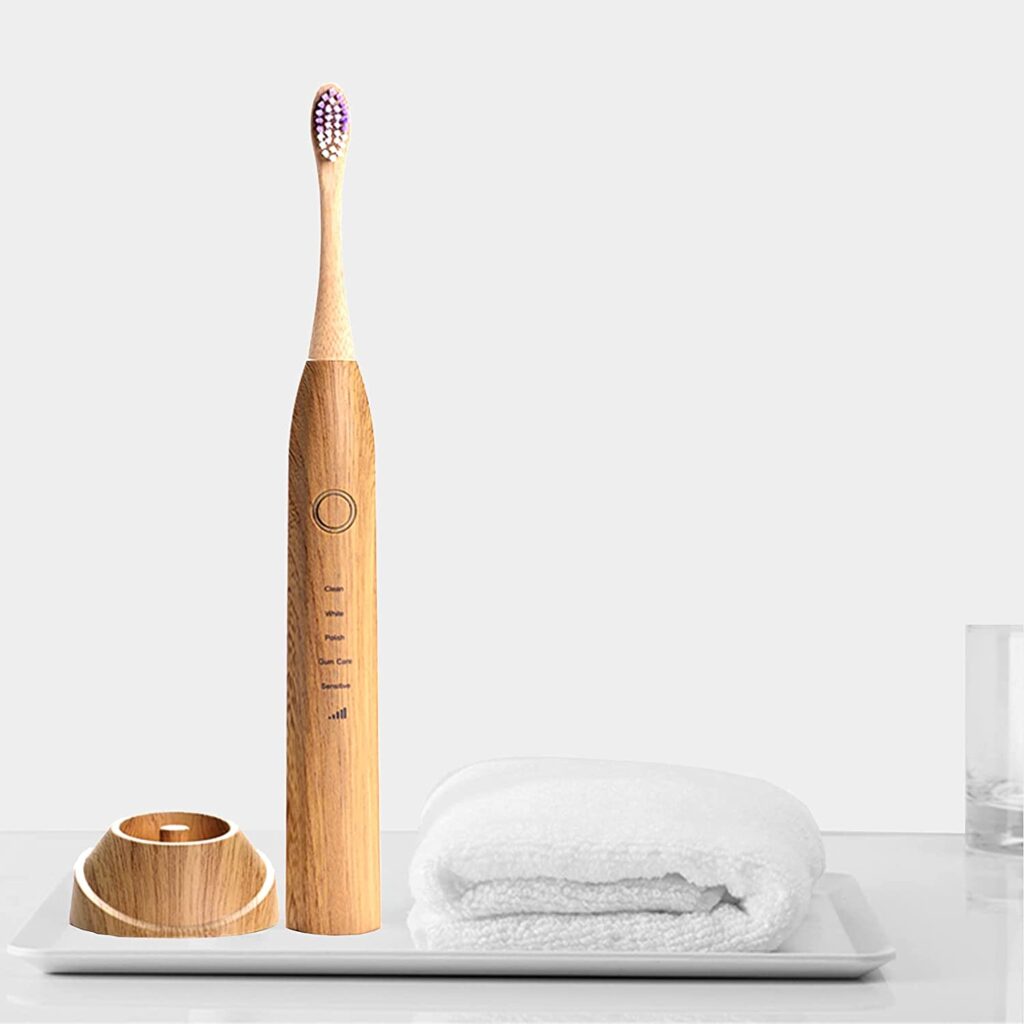 Circle Elephant Electric Toothbrush features sonic wave technology that vibrates up to 37,500 times per minute, removing up to 99% more surface stains compared to manual toothbrushes. With a focus on reducing plastic pollution, the toothbrush utilizes natural bamboo for a truly biodegradable design.
The toothbrush has a 2-minute smart timer with 30-second intervals, encouraging dentist-recommended brushing habits, and offers 5 distinct enhanced modes with 3 different strengths, resulting in 15 combinations for versatile use by adults and children. The replaceable bamboo brush heads are made of natural bamboo and plant bristles, providing 100% biodegradability and compostability. Last but not least, it features a fast-charging, ultra-long-life battery. With a 2-hour charge providing at least 30 days of use, Circle Elephant Electric Toothbrush is an ideal travel companion for business trips or family vacations.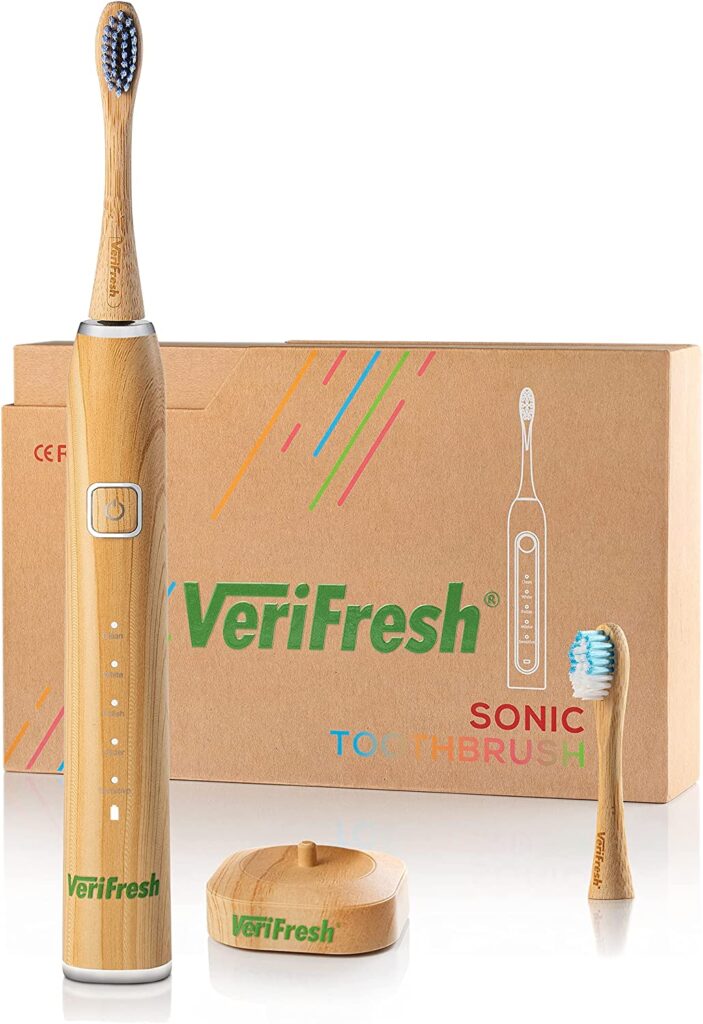 Elevate your brushing experience with VeriFresh bamboo sonic toothbrush. Powered by an ultrasonic motor, this toothbrush generates up to 38,000 vibrations per minute, ensuring a thorough and efficient clean. Customize your brushing experience with five distinct programs tailored to your specific needs, and enjoy the all-natural, biodegradable bamboo brush heads with castor oil bristles and plant-based fittings.
The long-lasting electronic handle recharges in 10-12 hours, providing up to 3 months of use on a single charge. VeriFresh electric toothbrush also features a 30-second interval timer, a 2-minute smart timer, IPX7 waterproofing, and no-contact induction charging.
Top 5 Bamboo Electric Toothbrush Heads
Already own a bamboo electric toothbrush but need a replacement for the toothbrush head?
Today, many bamboo electric toothbrushes come with their own replaceable bamboo brush heads. However, many manufacturers have produced bamboo toothbrush head replacements to offer more variety users who are looking for a better option.
The Humble Co toothbrush replacement heads are a fantastic way to not only maintain your oral hygiene but also contribute towards environmental sustainability by avoiding plastic usage in everyday life. The replacement heads, which are compatible with Phillips Sonicare Electric Toothbrush, are an eco-friendly alternative to traditional replacement heads that utilize harmful and limited-use plastics. The dentist-approved brush heads feature nylon bristles and a wavy pattern that are gentle on gums, making them great at hitting hard-to-reach places in the mouth, preventing cavities, removing surface stains, and helping to remove plaque.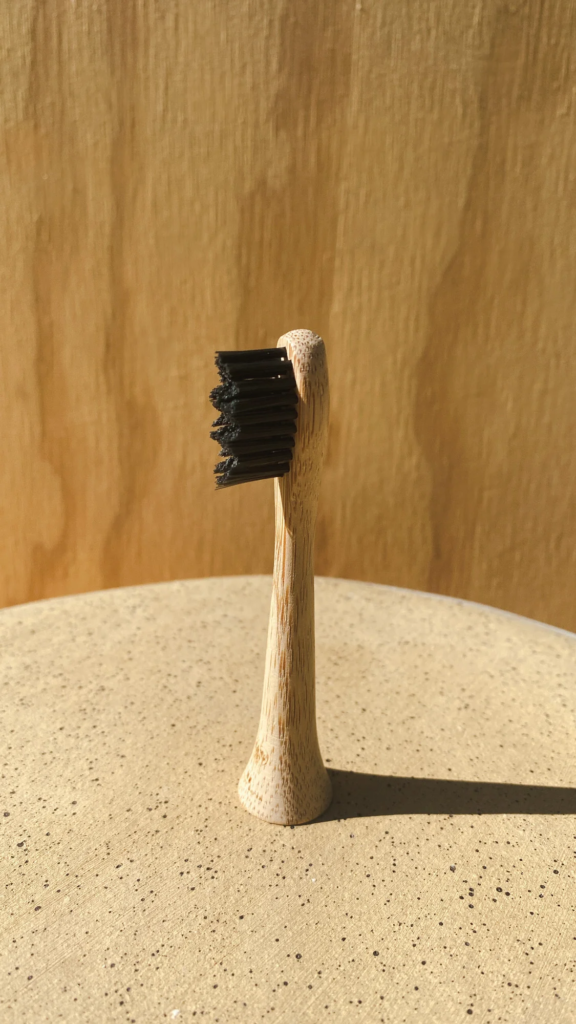 These toothbrush heads are specifically designed to be compatible with the Phillips Sonicare 9-Series. The bristles on these brush heads are made from a blend of medium/soft castor bean oil and charcoal. Furthermore, bamboo – a naturally antimicrobial material that is also a fast-growing and renewable resource – is used to make up the rest of the brush. The toothbrush heads feature a cornstarch insert at the bottom that is essential for the metal to fit and vibrate properly through the brush, ensuring its optimal performance. The toothbrush head comes in a pack of 4 and are packaged with a fully biodegradable Kraft paper box.
Ponpace toothbrush heads utilize a plant-based renewable bristle made primarily from castor oil, which can help reduce dependence on fossil resources and fossil raw materials in the context of carbon neutralization. Additionally, the toothbrush features a 100% natural bamboo handle that is carefully polished with a food-grade coating for an improved oral experience, a special bristle planting technology that prevents bristle fallout during use, and recyclable, compact packaging that helps reduce the use of kraft paper. The toothbrush is compatible with most models of Phillips Electric Toothbrushes.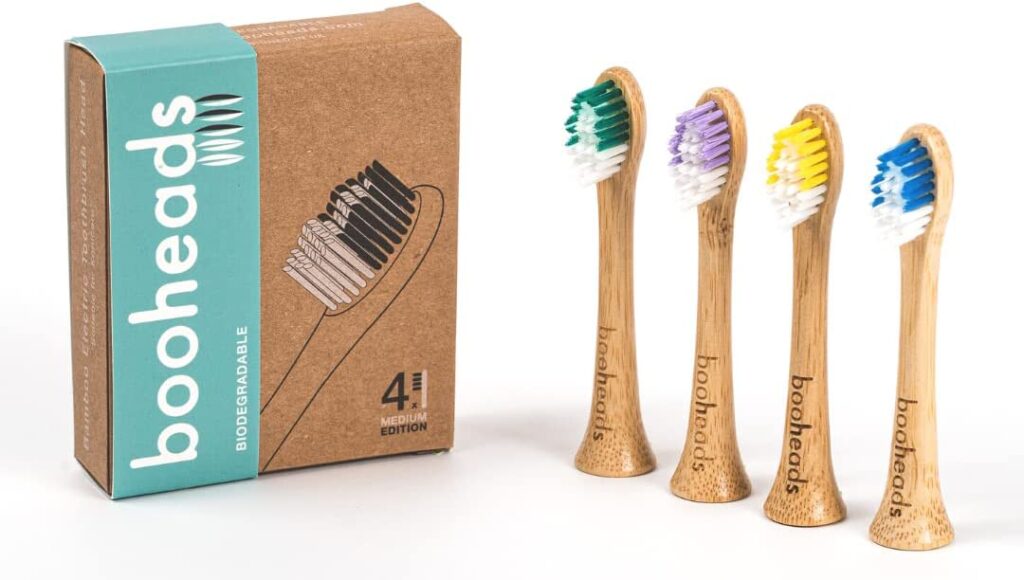 booheads bamboo toothbrush heads are an eco-conscious and sustainable solution that offers both clean teeth and a clean conscience, as they are biodegradable and made from renewable and sustainable bamboo and bioplastics. The plant-based medium bristles, combined with a unique multi V design, ensure a thorough dental clean. The lightweight toothbrush heads are compatible with most Sonicare electric toothbrush models.
5. Better & Better Natural Bamboo Toothbrush Head Refill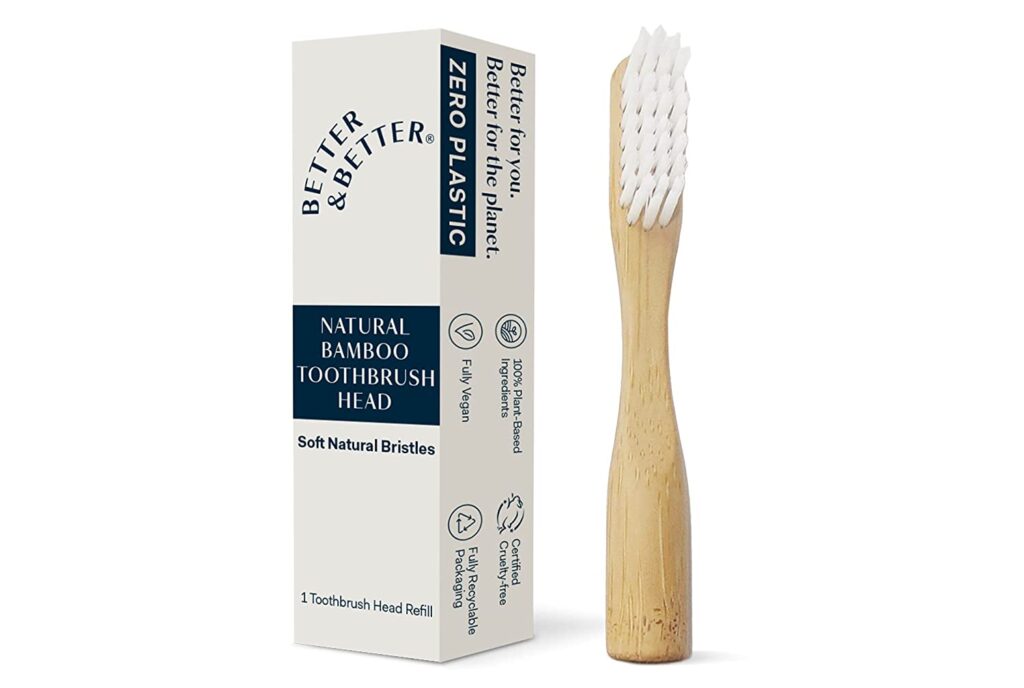 Replace your Better & Better toothbrush head with a soft, 100% plant-based bristles and natural bamboo that keep your teeth bright and your gums pink, all while being eco-friendly, zero plastic, cruelty-free, and vegan. What's more, Better & Better is certified by Leaping Bunny, the only internationally recognized certification for cruelty-free brands.
Takeaway
In conclusion, the rise of eco-friendly oral hygiene solutions, such as bamboo electric toothbrush heads, showcases a growing commitment to sustainability in dental care. These biodegradable alternatives provide effective oral care while reducing the environmental impact caused by plastic waste.
Opting for a bamboo electric toothbrush head is a small yet significant step towards a greener lifestyle. By making informed choices and choosing sustainable products, we contribute to a healthier environment for ourselves and future generations. So, the next time you need to replace your electric toothbrush, consider a bamboo alternative and make a positive impact on our planet. Happy brushing!