In the world of stainless steel, one of the questions mostly commonly asked is, "How does I remove scratches from my pots and pans?"
There are several ways to remove scratches, though one of the cheapest and most effective method is to utilize the toothpaste. Similar to how sandpaper sands out the rough edges for wood, the all-mighty toothpaste works by having its abrasive ingredients scrubbed against the surface of the stainless steel, smoothing out the grooves in the scratch.
Today, several different mild abrasive ingredients are being incorporated into toothpastes, including calcium carbonate, dehydrated silica gels, or hydrated aluminium oxides. These ingredients helps to remove stains and any residual debris left on your teeth, keeping it clean and sparkling.
A quick way to compare the abrasiveness of different toothpastes is to rub it on the shiny side of a tin foil. Rinse off the toothpaste with water and compare the scratches that remains on the foil's surface.
You may be interested in: What Is a Non Abrasive Toothpaste?
As such, the most effective way to remove scratches on a stainless steel is to use a whitening toothpaste as it contains a small dose of bleaching agent (such as hydrogen peroxide) as well as a higher percentage of abrasive ingredients. A soft bristle toothbrush is also recommended as the brushes work well at delivering the toothpaste into every nook and cranny of the grooves.
How To Use Toothpaste To Remove Scratches From Stainless Steel?
For many, toothpaste are a great way to remove those unsightly scratches on your stainless steel appliance or equipments. While there is no "right" way of applying toothpaste on the scratched surface, the steps outlined below was well established and recommended for its effectiveness and ease of application: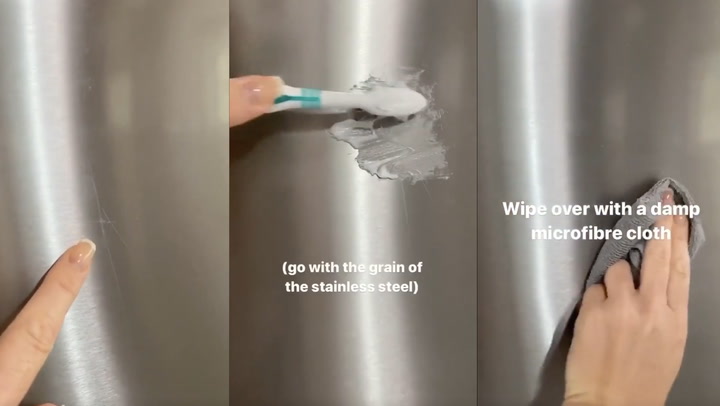 Apply a coat of toothpaste on a soft bristle toothbrush.
Brush over the scratched surface of the stainless steel. Scrub in the direction of the grain to avoid causing a deeper scratch.
After a minute of brushing, rinse the area with water before drying it with a microfibre cloth.
Repeat step 1 to 3 for several more times.
After several rounds of brushing, examine the scratch to see if it is removed. Proceed to step 6 if you are satisfied with the results.
Apply a layer of stainless steel polish or olive oil on the surface to leave a shine. Do this by pouring the polish or oil on a cloth and applying it in a circular motion on the stainless steel for several minutes.
Use a kitchen towel to wipe off any excess polish or oil.
While toothpaste may seem like a miracle product, it is effective only on shallow scratches. If you are looking to remove deeper scratches on a stainless steel, start with a coarse grit sandpaper, then one with a finer grit. Alternatively, you may purchase a stainless steel cleaner such as Bar Keepers Friend Stainless Steel Cleaner, Weiman Stainless Steel Cleaner & Polish, or Rolite Metal Polish and Scratch Remover. End off with the application of a layer of olive oil.