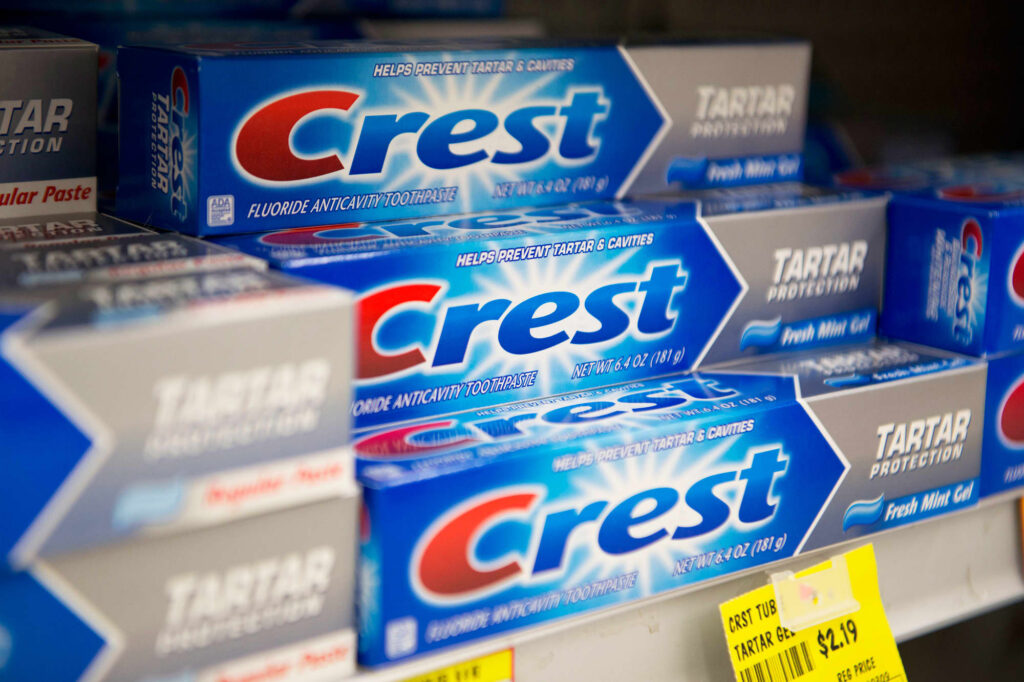 Crest is a popular toothpaste brand that was introduced in the United States in 1954. The company started off as a toothpaste manufacturer but has since expanded to other dental care products including toothbrushes, mouthwashes, and tooth-withening products. However, there have been a rumor that Crest's toothpaste contains small traces of pork.
Does Crest Toothpaste contain pork? The short answer is no, the toothpaste does not contain any pork.
Nonetheless, the controversy has been ongoing for over a decade, with some touting that Crest utilizes pork or animal-based products in the production of its active ingredients.
In particular, the brand's Pro-Health toothpaste is said to have been manufactured with pork fat. This has been denied by Proctor and Gamble (P&G), the company that manages the brand. While there have been no official statement released by the P&G, concerned consumers were assured in several reply emails and responses on e-commerce sites that the Crest does not utilize any animal or animal by-product in the production of its products.
Is Crest Toothpaste Safe for Vegans?
While toothpaste may not contain pork, that does not suggest that all of Crest's oral hygiene products are safe for vegans to use as they may still contain animal products. Some of the common ingredients present in most big brand toothpastes can be derived from both animal and plant sources. These includes glycerin, flavouring agents, and coloring agents.
Glycerin for instance, is a sweet and odorless liquid that is used as a humectant to preserve moisture and create the smooth texture in found in toothpaste. Glycerin is primarily sourced from animal fats such as pig and cow as well as soy plants including soya bean and palm.
You may be interested in: What Are Desensitizing Toothpaste and How It Works
Furthermore, large brands are known to conduct product testing on animals. As Crest does not disclose its animal testing policies and procedures, it remains unclear what are the tests being conducted on animals. That said, Crest is not certified by any organizations to be cruelty-free.
More often than not, these experiments involves some level of cruelty towards the animals. Some of the examples listed by People for the Ethical Treatment of Animals (PETA) include the exposure of a toothpaste's active ingredients into an animal's eyes or exposed skin, as well as the forced ingestion of large quantities of an active ingredient. These animals are usually killed at the end of the experiment as part of a company's "humane treatment" policy to relief the suffering of the animals.
Thus, while Crest may offer vegan-safe oral hygiene products under its line-up or subsidiaries, the same cannot be said for all of its product. Other major brands that are known to conduct animal testings or include animal-based ingredients in its products include Colgate, Pepsodent, and Sensodyne.
Nonetheless, there are numerous companies in the market that produces toothpastes and other oral hygiene products that utilizes only plant-based or synthetic ingredients and are cruelty-free. If you are looking for a toothpaste that is safe for vegans, check out the list of brands below:
hello. The company's lineup of products are are certified by Leaping Bunny to be cruelty free.
Colgate's Zero. The sub-brand contains zero artificial flavors, sweeteners, preservatives, and are both vegan and gluten free
Tom's of Maine. While not all of Tom's of Maine products are vegan, the brand does not conduct testing on animal.
Sprinjene. The brand is certified vegan, gluten free, Halal, and Kosher.
Dr. Brite. The brand is both vegan and cruelty-free.
Desert Essence. While all of Desert Essence's products are vegetarian, only a handful are vegan.
Hey Humans. The company is 100% vegan and cruelty free. Its packaging is also 99% plastic-free.
Bite. The company's innovative toothpaste tablets are 100% gluten-free, vegan, and cruelty-free.
Kiss My Face. All of Kiss My Face's toothpaste are vegan.
Green Beaver. The company's products are mostly vegan with the exception of items that contain beeswax, .
Schmidt's. All of schmidt's lineup of products are certified vegan by Vegan Action.
Davids. The brand is safe for vegan and is certified by Leaping Bunny to be cruelty-free
My Magic Mud. All of the company's products are certified vegan and cruelty-free.